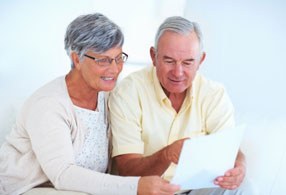 Save Time, Money and Eliminate Frustration and Uncertainty. We assist persons with understanding Medicare, the importance of having insurance, and the available insurance options, including the traditional Medicare Supplements, the Medicare Advantage plans, and the Part D Prescription Drug plans. Over the years, we've assisted thousands of persons locally with their Medicare and their insurance plans, and it's our predominant area of concentration.
For many people, both Medicare, and the different available insurance options, can be complex and confusing, and it can be difficult to obtain explanations and have your questions answered.
Many people are bombarded with a blizzard of confusing marketing materials; try to read and understand lengthy, confusing booklets; go on the internet; or try to speak with someone in a far-away call center that may have inadequate training or knowledge of your local situation, and who you'll likely never be able to reach again if you wanted or needed to.
We offer a better alternative. We'll meet with you in the privacy of your home, or other location convenient to you. We'll first understand your situation and objectives, and then explain Medicare – what it is and how it works – and answer your questions. We'll then explain the different insurance options available to you, and the pros and cons, and trade-offs, to help you evaluate which plan is best for you.
As we're compensated by the insurance companies we represent, there's of course no cost or obligation to you. And when you're ready, we'll assist you with completing your enrollment – making sure that everything is properly submitted and in effect when intended.
And the best part. As your agent, we'll then be available to you in the future, should you have questions or need any assistance. You'll have the peace of mind of knowing that you'll have a local agent you can always reach if you have questions or need any assistance.
So why hesitate or try to "reinvent the wheel" by yourself? Call or contact us today. Through our no-cost, no-obligation personal consultation, we can save you time, money, and eliminate frustration and uncertainty with your choice of Medicare insurance plans.